Phalkun Mam and Jonathan Tep
/
DC Players

On behalf of Tennis Cambodia, we would like to welcome you to our first of many reports on our 2019 Davis Cup group IV campaign in Amman, Jordan.
Upon our arrival on September 6th, we found ourselves amazed as we took in the beautiful sights of Jordan as it was the first time for us in this country. The climate is hot but very enjoyable as there are many cool winds due to the mountainous terrain of Amman which sits at an elevation of 1,000m. A welcome change of pace from the hot and heavy heat of our beloved kingdom of Cambodia.
Mornings are spent practicing from 9-12am followed by a short rest period before hitting the courts again from 4-5pm. Spirits are high and plenty of positive energy. Each and every one of us feels truly privileged to once again compete in such a prestigious tournament.
Tomorrow's schedule will see us play a few friendly matches against Saudi Arabia. We look forward to some friendly competition as it is not only good practice but should also give us a good assessment of where we stand and how we will be setting our roster.
Prior to matchday 1 on the 11th of September, will be the Captains' meeting on September 10th during which the pools will be announced. This edition of the Davis Cup will count 14 nations: Pacific Oceania, Oman, Jordan, UAE, Cambodia, Mongolia, Bahrain, Saudi Arabia, Turkmenistan, Iraq, Bangladesh, Guam, Tajikistan and Kyrgyzstan. They will be divided in 4 pools (2 pools of 3 teams and 2 pools of 4 teams). The top 2 emerging teams will be promoted to Group III in 2020.
As mentioned above there will be 4 pools, and the top 4 ranked nations with the highest Davis Cup Rankings will be placed in Pools A, B, C and D, respectively. Pool A is led by Pacific Oceania [101], Pool B to Oman [102], Pool C to Jordan [103], and Pool D topped by UAE [104]. Pools A and B will have 3 teams, and Pools C and D will both have 4 teams in their respective pools.
The next step is to fill the pools with the remaining teams, and so the next 4 highest ranked teams will be randomly drawn and take one place in each of the 4 pools.
We would like to thank you for your continued support and we look forward to bringing you more updates in the upcoming days. Enjoy the pictures below!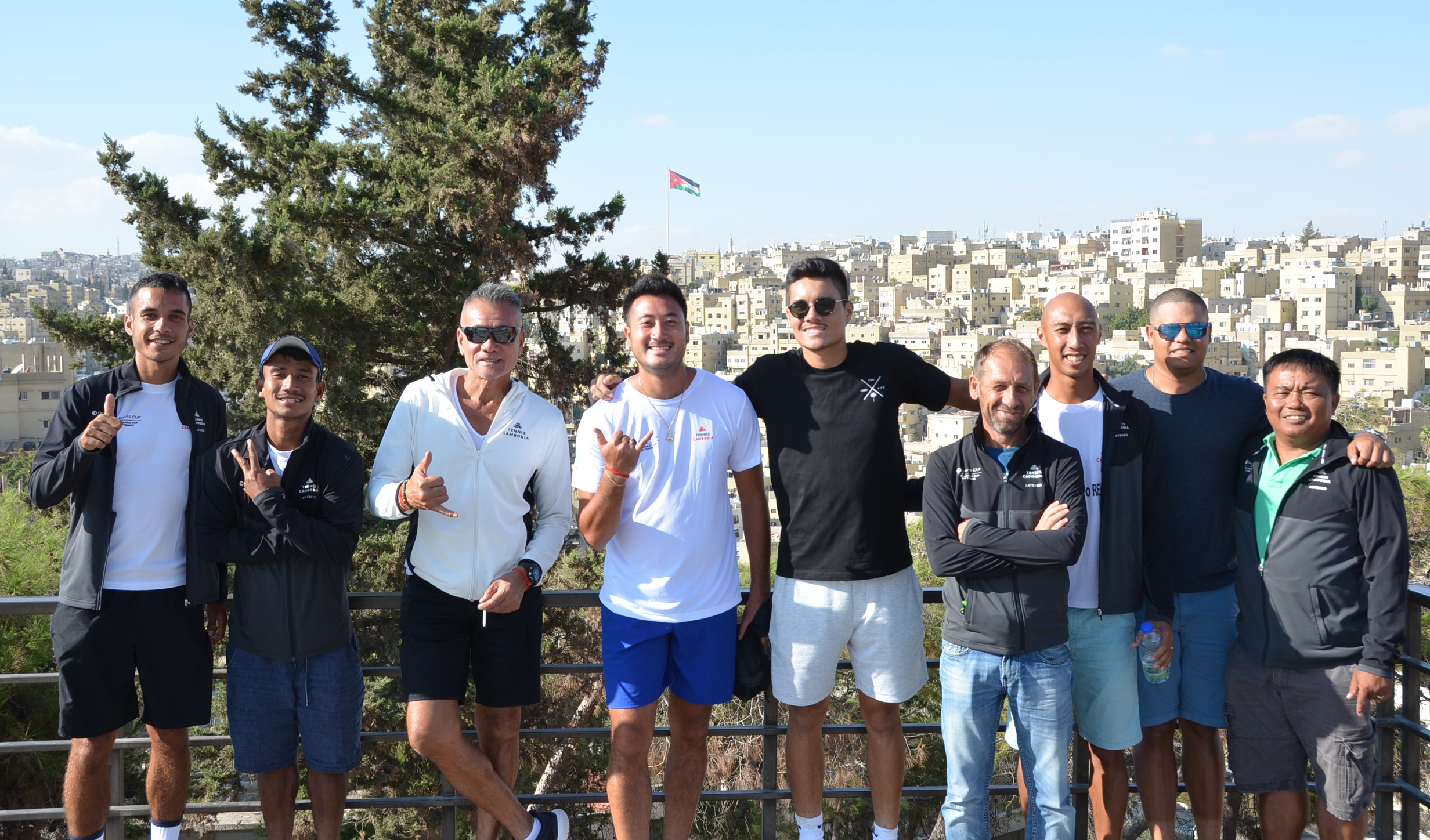 ---
Editor's note: ELITE is pleased to share 'postcards' from Tennis Cambodia as they participate in the Asia/Oceania Group IV Davis Cup in Amman, Jordan.