Robert Davis
/
EDITOR-IN-CHIEF
It is a cold and windy Moscow morning. Boris Sobkin can barely contain his excitement as he pulls the collar up on his sheepskin coat and quickens his step through the falling autumn leaves. Rays of sun shine through branches of elm and birch trees that make up the forests of Sokolniki Park. Slung over Boris' shoulder is a duffel bag stuffed with gym clothes, notebooks, pens, pencils, and two wooden Moskva tennis racquets. Boris is on his way to Spartak Tennis Club where the 28-year-old computer science engineer is going to practice with ten-year-old Andrei Chesnakov.
It may seem strange that a twenty-eight-year-old would practice with a child. However, neither Boris Sobkin nor Andrei Chesnakov were anything but normal. While Boris was only just learning to play tennis at the age of 24 years old, *Chesnakov was already a prodigy before he was eight years old. (* Andrei Chesnakov would achieve an ATP Tour world singles ranking of no. 9)
"I started to play recreationally in Moscow before I got my first doctorate degree," remembers Sobkin. "Andrei (Chesnakov) was only ten years old at the time and his coach, Tatiana Noumko, was my friend. She thought it was a good idea that I become his hitting partner."
"When I started to play with Andrei (Chesnakov)," continues Boris. "I listened to what Tatiana (Noumko) told him and I tried to follow what she advised him. It was my first step of knowledge. I had no coach as nobody taught me how to play tennis. Tatiana did not give me any advice, only I took what she said to Andrei. She (Noumko) had four major rules; no errors allowed, maximum attention, reach and run for every ball, and push 100 percent."
Though he started playing tennis late, Boris improved quickly. In fact, in less than four years Boris was competing in national tournaments. Playing tennis during the Soviet Union era may not have been easy, but it was not impossible. Yes, there was a shortage of tennis balls, strings, quality racquets, and indoor court time was very difficult to get. Though opportunities were limited there was one positive effect; it encouraged both players and coaches to make the most of any chances given. That is exactly what Boris Sobkin would do.
Spartak Tennis Club became a pipeline for producing professional tennis players. Andrei Chesnakov, Marat Safin, Dmitri Tursunov, Elena Dementieva, Dinara Safina, Anna Kournikova and Anastasia Myskina are some of the more popular names that came through Spartak but not the only successful ones.
Where there are good tennis players there must be good tennis coaches. And Spartak had plenty. In addition to Tatiana Noumko, there was Larisa Preobrazhenskaya and Rausa Islanova.  Preobrazhenskaya was known as a master of teaching technique. While Islanova (Marat Safin and Dinara Safina's mother) was valued for her system of competitive selection process. Noumko, Preobrazhenskaya and Islanova were each respected for their strong disciplinarian authority. For an aspiring coach with a scientific mind like Boris Sobkin, Spartak Tennis Club became a laboratory full of experiments and case studies. Sobkin's tennis education was prospering.
"I became friends with Tatiana's (Noumko's) husband," says Boris. "He was also a tennis coach and very scientific. And he gave me advise and became my first personal tennis coach. He made a group of players and we had different methods of practices. There were experiments. Some were maybe stupid and some maybe not so stupid."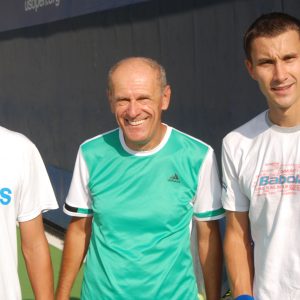 "After some time, Tatiana asked me to help her with Andrei (Chesnakov) and be her assistant a little bit," continues Boris. "For example, we worked a lot with Andrei's slice backhand because he had two hands backhand and his slice was not too good. And my best stroke was the slice backhand. After that I got a knowledge, this is the second stage. I started to separate what was good for me and what was not good for me. I did not follow everything that she taught to Andrei but I tried to figure out what was good and not…